It's Personal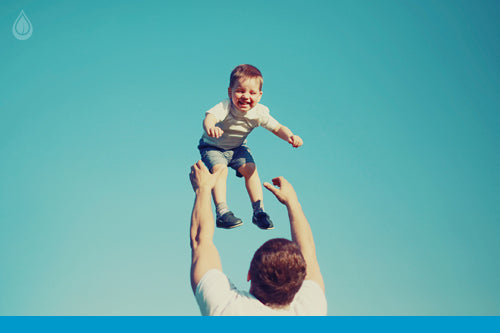 It's Personal. We Want to Make a Difference.
For 1PURE CEO and Co-founder Allen Voigt, It's personal. Years ago, Allen began experiencing severe back pain. After consulting with medical professionals, it was discovered that Allen had a cyst on his L3 vertebra, which was pinching his sciatic nerve.
Allen was prescribed pain pills and was scheduled for surgical treatment. Because chronic pain is one of the most common reasons why people take CBD oil, Allen decided to try CBD, topically and sublingually, before the surgery. CBD attacks pain by adjusting the brain's pain response, releasing neurotransmitters that act as an antidepressant. At the same time, it binds to CB2 receptors located throughout the immune system to reduce inflammation. It has been shown to work as an anti-inflammatory, antioxidant, and analgesic. CBD may also help with the anxiety that many people experience when living with chronic pain.
CBD Brought Fast Relief
Within three days of using CBD, Allen felt relief he hadn't known for some time – so much so, that surgery was no longer needed. Intrigued by his improved condition, Allen began to conduct in-depth CBD research, and quickly realized that there was a significant lack of regulated CBD products in the marketplace.
Catalyst for a Better Way
That realization became the catalyst for Allen's decision to ensure the availability of a high-quality CBD option. He soon discovered that there were many individuals who could benefit from this high-quality alternative after other inferior options failed to deliver the needed relief.
An accomplished senior executive with more than 30 years of success in the entertainment, pharmaceuticals, financial services, information services, and technology industries, Allen is no stranger to business planning and go-to-market strategies. He made the personal decision and commitment to begin developing cannabinoid-based products and additives providing health benefits and make these products available to individuals worldwide.
Helping Those in Need
In large part, 1PURE CBD was born out of Allen's compassion to help those in need live happier, healthier, and more productive lives. Today, 1PURE CBD researches, develops, and distributes the purest and most cost-effective natural cannabinoid products. Stringent quality standards help those who need a better alternative and natural solution to live happier and healthier lives.
As he developed 1PURE CBD in Brazil, Allen personally took calls from concerned parents and he listened. And he encouraged. And he cared. He and his team worked directly with patients, families, and doctors to ensure patients got the care they needed.
One such case was Isabela. At the age of 12 years old, Isabela while celebrating New Year's Eve with friends and family, started to have a strange feeling that resulted in a seizure. She was later diagnosed with Epilepsy. Over time, she began having seizures weekly. Isabela had tried different medications by the age of 15. Having been seizure-free for a year, the epilepsy came back even stronger with seizures happening about twice a day. After the medications no longer had an effect, a neurologist suggested treatment with cannabidiol. It was through 1PURE CBD that Isabela began to see improvements that she hadn't experienced in some time. After about three months of taking 1PURE CBD, Isabela was able to smile again and slowly felt more confident about living her life again.
Another extreme case is Livia. Livia has Dravet Syndrome, a rare type of difficult-to-control epilepsy. Dravet Syndrome has, in addition to convulsions, delays or difficulties in speech and the motor system. Despite Livia's age, we perceived a slight imbalance in gait and a slight delay in speech when compared to other children her age. She has proven to be resistant to both traditional and modern medications and treatments. Her parents and doctors decided to try 1PURE CBD and within the first month, they saw great improvement in controlling seizures and noticed an improvement in her speech development. "We have been without myoclonic seizures for months. We have also experienced the usual triggers such as, fever, colds, flu, and sinusitis, without crisis. 1PURE CBD has been making the virtually impossible possible and has greatly improved the quality of Livia's, and our family's lives" said Livia's mother.
Countless people with headaches, chronic pain, seizures, anxiety, and other life-altering symptoms are all being treated around the world by doctors, caregivers, and family. Routine prescription medications sometimes do little to alleviate many of these symptoms as many have seen first-hand. 1PURE CBD believes people should consider the opportunity to give pure, premium quality 1PURE CBD a chance at addressing ailments. So, Allen and his team have worked tirelessly to expand their product line and extend access to 1PURE CBD products to even more people. Hence the launch to the United States.
What's Your Story?
Countless others have benefitted because of Allen's journey. Our People of 1PURE CBD is a testament to the quality of our products and for CBD to make a difference. In adults suffering from chronic pain to children with hard-to-treat forms of epilepsy and autism, 1PURE CBD has changed lives. We are incredibly proud of that and we'd love to hear your story so we can celebrate with you. And we want to use the power of your story to bring quality, consistency, and safe CBD from a credible, regulatory compliant manufacturer to everyone.
While 1PURE CBD can make no medical claims, the organization has worked with individuals who have provided positive, credible testaments to 1PURE CBD's ability to relieve symptoms associated with many ailments and disorders, while also providing numerous health benefits. As always, you are encouraged to consult a physician or healthcare provider before modifying your diet, using any new product, drug, or supplement, or doing new exercises. You are also encouraged to educate yourself on relevant scientific and nutritional facts. In essence, it's time to rethink the way you heal, stay healthy and live.
Be sure to visit our Sign up page to receive updates on the latest advances in new 1PURE CBD products and promotions.